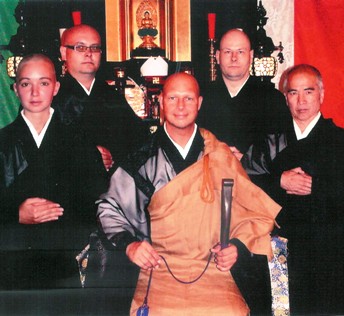 | | |
| --- | --- |
| Address | P.O.Box 794 4666 Kristiansand.S NORWAY |
| phone | 47-380-86902 |
| fax | 47-380-15628 |
| E-mail | sozen@online.no |
| web | http://www.sotozen.no |
Directions
Surrounding Areas Served
---
Brief History
Founded in 2001by Sozen Kusano and brother Doshu. In 2002 the denomination was officially registered with the Norwegian government, received license to marry by the Department of Church and Cultural Affairs. In January 2005, established The Norwegian Sotozen Foundation (a registered non profitable organization) to support the education of priests, promote activities aimed at better realizing for peace, human rights and the environment.

Founders&Successive Chief Priests
Chief priests
Kusano Sozen

The temple has presently 4 monks and one non.
Activities, Annual Services and Events
Zazen
Currently housing the practice of four monks and one non supported by members from 15 counties across the nation.
[d]

[modify] 2008/04/02 19:24:45 by uchiyama
[modify] 2008/01/30 02:57:06 by uchiyama
[modify] 2008/01/30 02:53:15 by uchiyama
[modify] 2008/01/30 02:51:24 by uchiyama
[create] 2008/01/30 02:51:06 by uchiyama